·
A.O.N Assistant Regional Organiser - Scotland East
Discussion Starter
·
#1
·
Well as some know the 156 has met an end after succumbing to tin worm and all the other issues that were still needing done, so its currently sitting on axle stands waiting for another few weeks to get what I can off it and then send it away to be cubed and turned into cat food tins or whatever they do with cars nowadays, but anyway choosing a 2nd car isn't as easy as I thought it would be, logically you don;t want the same car that you already own( not that there was any vxrs in my price range) but needed something different, so was looking at some old hot hatches, and diesels inc vans( and did find a few rather nice vans that would have been perfect), but then spotted a real nice vec B gsi estate with a 3.2 swap.
All was going well, me and the owner were having a good chat over a few days on the minor details on the car and even arranging driving down to collect it( was in London - south of the thames - so no quick jaunt on the motorway, but seriors 8-9 hours driving), everything checked out good, knew it had some rust on teh rear arches but didn't look serious and had just got an mot few months back, so knew the shell was at least solid, but Thursday got the dreaded message saying that he couldn't let the car go, and that was that, i wasn't angry, as better he told me then than when i was halfway down the road to collect it, so the hunt continued, found a few more GSi's all saloons but down south, all needed work and none were as nice as the estate, so just thought **** it, searched V6 vauxhall with a max of 1500 in gumtree just for ***** and giggles expecting the usual range of 2.5-3.0 omegas, 2.5 sri vectra's the odd 3.2 vec c gsi and the 3.0 cdti, but then noticed a 2.8t on a 2006 plate for under a grand, now naturally it sparked my interest, has to be something wrong with it, a 2.8t for less than a grand surly not, looked at the add, relatively high mileage for the year at 149k, but MOT history checked out good, claimed to be a nice quiet engine that pulls well and recently had new tyres fitted, so got in contact, arranged to view the car on Saturday morning,
@AND181
picked me up, we set off, test drove it, drove fine did notice a few things like the inevitable clunk of drop links( not a big deal lets be honest) but was quiet enough, pulled well and extremely smooth and comfortable), so bascially bought it there and then :lol:
Now was never a big fan of the vectra, especially in preface guise, but the facelift which gave them an astra like front end kinda made it bareable, granted the signum is a bit marmite from the rear, but i kinda like it, the boot spoiler makes it look less bland along with the side skirts.
Spec wise its got the usual design features of the slit rear bench and reclining half leather seats in the back, cd70 nav with a GID screen), came with a parrot hands free kit, after market parking sensors( dolphin?) with a distance guide which you can see in the rear view mirror.
naturally i'll be adding to that spec with retro fitting of the rear seat fridge :lol: which I picked up locally for the bargain price of £30.
The car is fairly practical with the rear seats down as well, managed to fit a full elite spec electrically adjustable memory seats into the back + door cards and still had enough room to comfortably seat 2, granted its no van but its much more practical than the astra is :lol: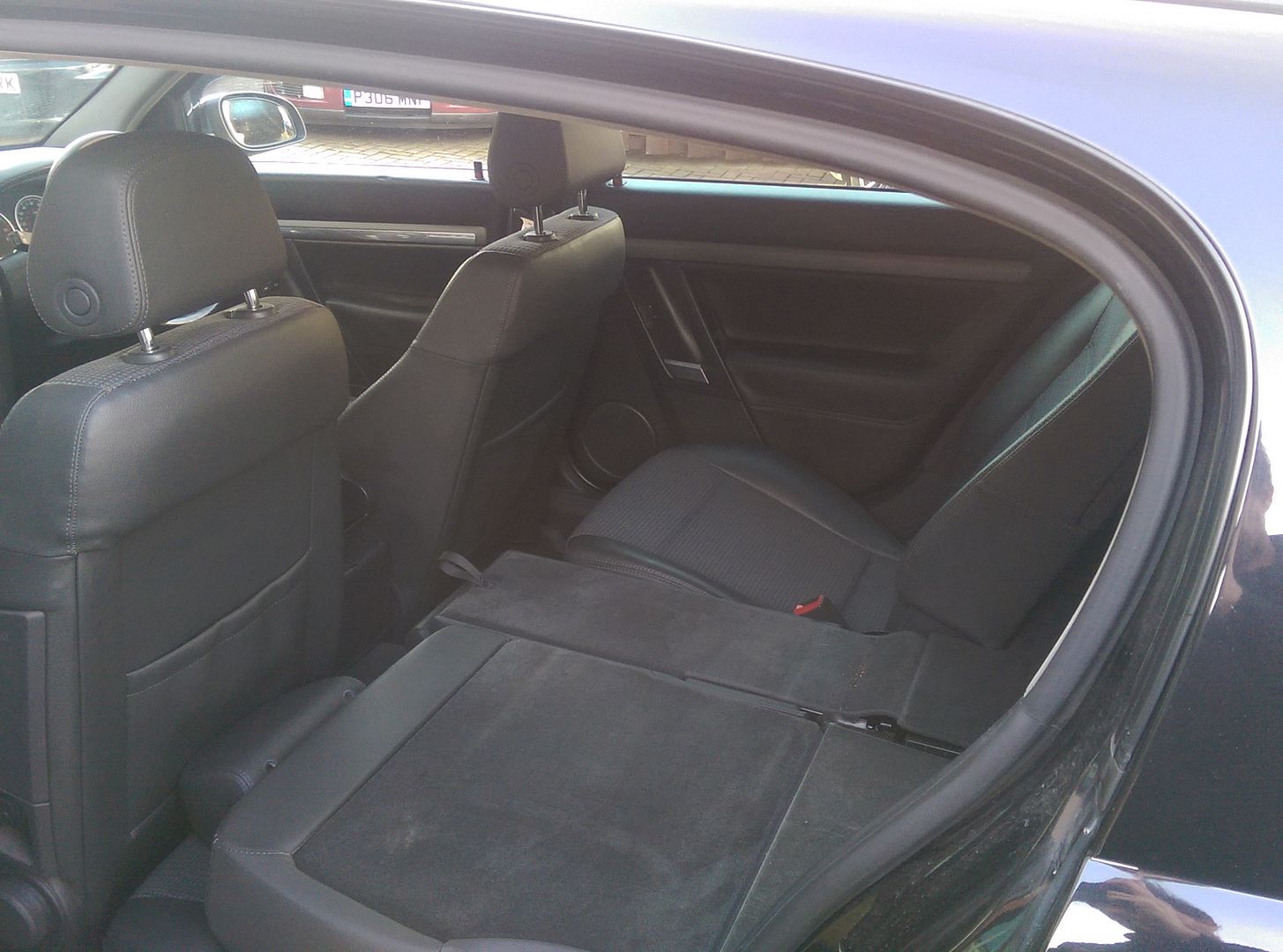 Oh yeah, also got a steal on the seats, full heated front seats( rears are not heated unfortunately but will be looking out for them) + door cards for £125, they ain't perfect, the drivers seat does have a minor tear where the side airbag cover is but its not that much of a concern as its not really visable, only thing missign from them is the heated seat switches which we should be able to pick up fairly easily from the masses of vectras in the local scrappy.
got the usual service stuff as well to be done when am next off, from the oil, spark plugs, changed the air filter already( wasn;t that dirty) and awaiting an oil filter from autovaux, swapped the wipers for some bosch areo twins as the ones on it were past their best, still cleared the windscreen but left it streaky and teh rear one was split on the ends.
And well its not as thirsty as I would have thought, yes its a big v6 turbo lump upfront so its never going to be diesel economical, but with teh way diesels are going its only a short while till they are priced off teh road anyways
, but its cable of getting high 20's low 30's easily prob be more once I fix the cruise which i needing a new clutch switc from our initial investigations, but its comfy on the motorways, even with a missbalanced wheel.
Now as for the miss balanced wheel, its due to a nasty crack which I noticed after the car was picked up and I initially thought it had a puncture, took it to a local tyre place who then found the back of the rim was cracked, so thats off to be repaired and atm its got one of the vxrs 19's fitted while the vxr is wearing the signums spare wheel.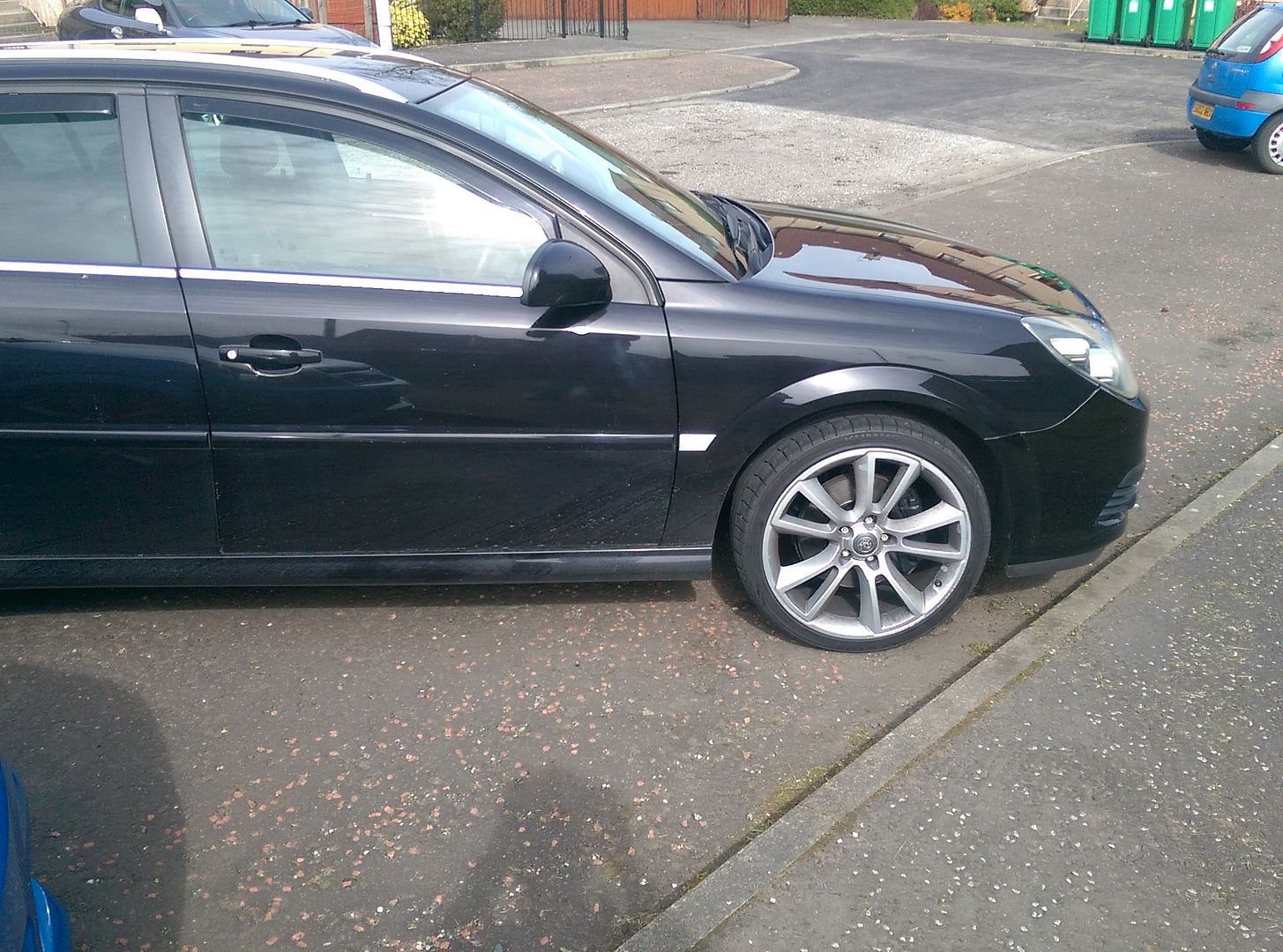 and said crack
But the bargains don't stop there, browsing the facebook market place and notice a set of eibach springs off a vec 3.0 cdti, but was posted 6 months ago for 90 quid brand new, so messaged the boy, he still had them and accepted my offer of 75 quid :mrgreen:
There is a few other small bits and pieces needing done, but am happer with this in the 2 days ive have it, than the 2 years i've had the 156, not that the 156 was a bad car, but parts for it weren't cheap, and finding used parts even std parts were nie on impossible, but there's plenty of vectra's on teh road which the signum shares many of its parts with so used parts aint an issue, and being a vauxhall even new parts ain't gonna break the bank.
Does need new car amts tho, as not sure what these are but they don't really work as car mats.
there is also the matter of a smallish dent in the bonnet needing repaired but prob be bale to pry it back out, but its not a major concern atm, paint work is also full of swirls so will prob end up doing a few days with teh DA to get that up to scratch, speakign of which it does suffer form teh usual flat back issues that estate has that keeping it clean is going to be a pita :lol:
done 300 miles since I bought it and already the **** is a nice grey colour
oh yeah, and the road tax for it ain't the full 500 quid job, its only 295 as its an earlier v6 which came before the whole emissions change