·
A.O.N Assistant Regional Organiser - Scotland East
Well now its pretty much public, but me and
@AND181
have a little project on the go in the shape of a 2.5 V6 omega estate, with the ultimate goal of competing in the Rust2Rome rally next year along with
@x-Amanda-x
and
@carps
.
Now we do have a strict budget of £500 for the car, excluding tax, insurance and keeping the car on the road, and well we got the car for an absolute bargain price of £180, yes I did say £180 and everything works even teh A/C, granted we needed to get it re-gassed but once that was done its cool enough to freeze the windscreen
, doesn;t really have much in terms of optional extras granted, but everythign that is fitted works from the electric windows all round, Electric sun roof, heated seats ect ect
.
Now why an omega? well why not? Its built like a brick **** house, there's very little to go wrong, the old x25xe has very few electrical components to go wrong and is a bullet proof engine all of which makes it a perfect for taking on a banger rally, but the best part of it is its RWD, granted its not exactly powerful, but we have a solution(s) to that, but more on that later, and its a manual, plus as me and Andy have discovered omega parts are readily available, or most are, and they are pretty affordable.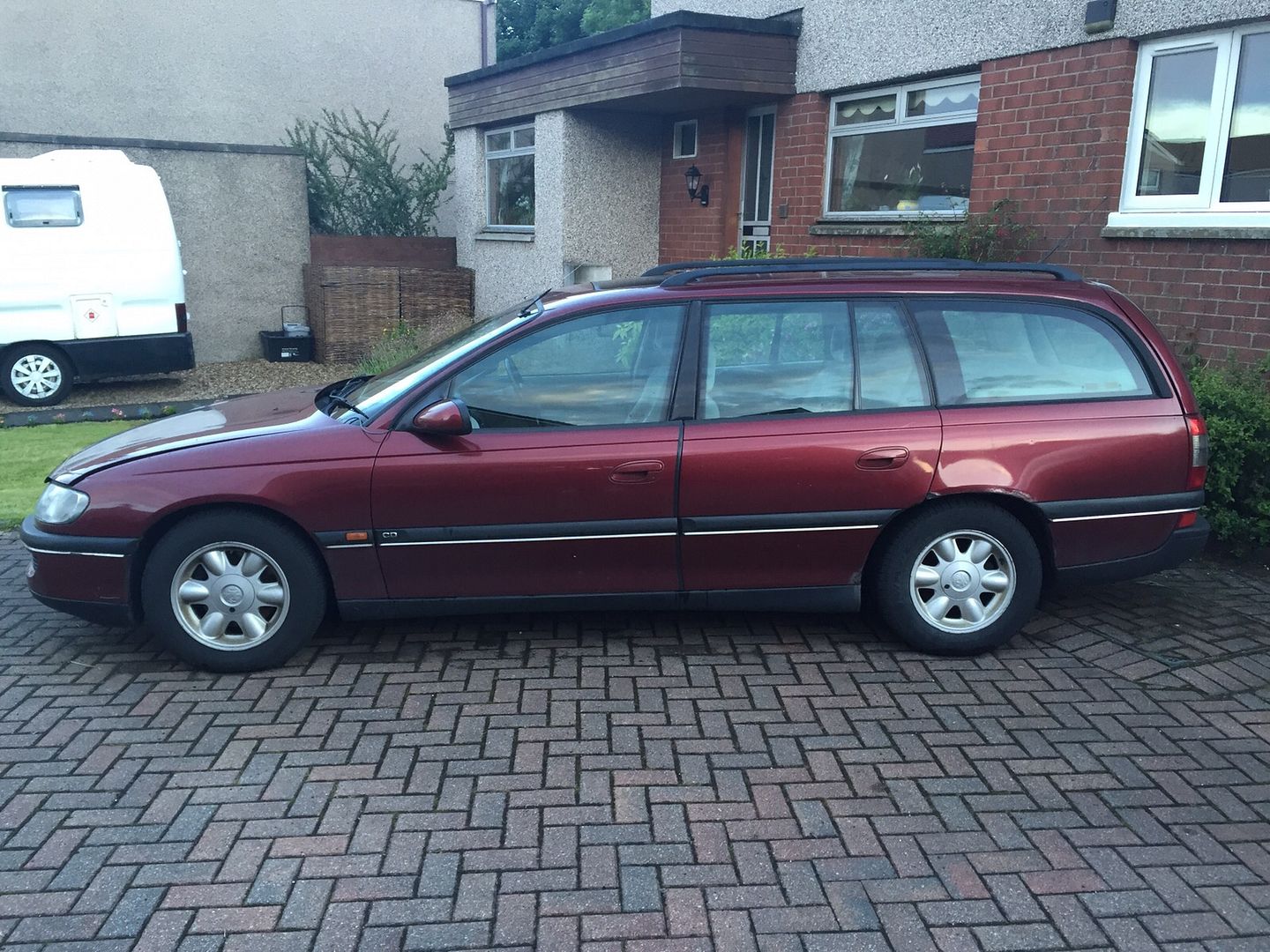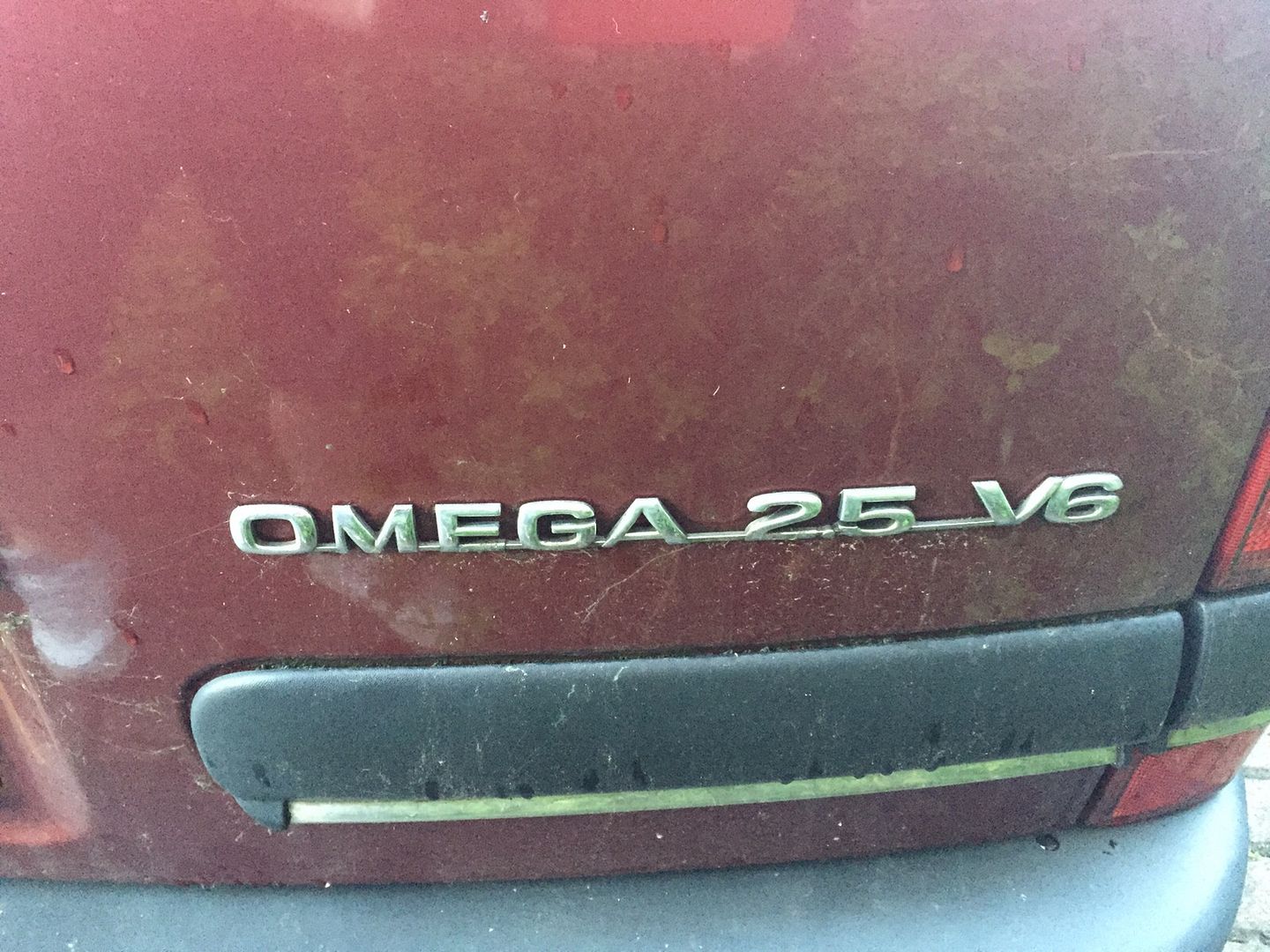 Now granted she is a little rusty in places but tbh the body work is all straight, engine bay is pretty much spotless and runs as it should( does have a slight tapping from the top end which we suspect to be a stuck tappet or injectors), and on the 300 miles journey back up the road from picking it up in Leeds it never felt like it was a 20 year old car, everything felt tight apart from the gear stick which seems to have a massive throw on it, now it is a massive beast, doesn't fit in a std parking bay as its just too long, and the boot is big enough to swallow me with the seats down. Only issue we did have on the way up was the battery which was pretty much dead, so long as the car was running the battery voltage would be fine, but stop the car then it would need a lil boost, so service stops were little like tetris trying to get the van into position to jump start the omega, but we had a spare battery which was removed from my vxr which i thought was dead but seems it was just needing a good charge and have been faultless in the omega since.
Now as many of you who know me and Andy we tend to not like standard stuffs, so before we had driven the car, let along even seen the car, we had a full heated leather interior lined up from a facelift MV6 estate which was just along the road from us in Edinburgh, and we had done some investigation into getting a tad more power from the lil v6 - which turns out to be pretty straight forward so long as your handy with a spanner.
SO back up the road we came and then picked up the interior( now this is a full interior inc 2 front seats, rear bench, plastic trims, door cards, boot trims and carpet and a boot blind) and loaded up the newly purchased omega on its first fully loaded task, now we were kinda glad we didn't take the van as we doubt we'd be able to fit it all in :lol: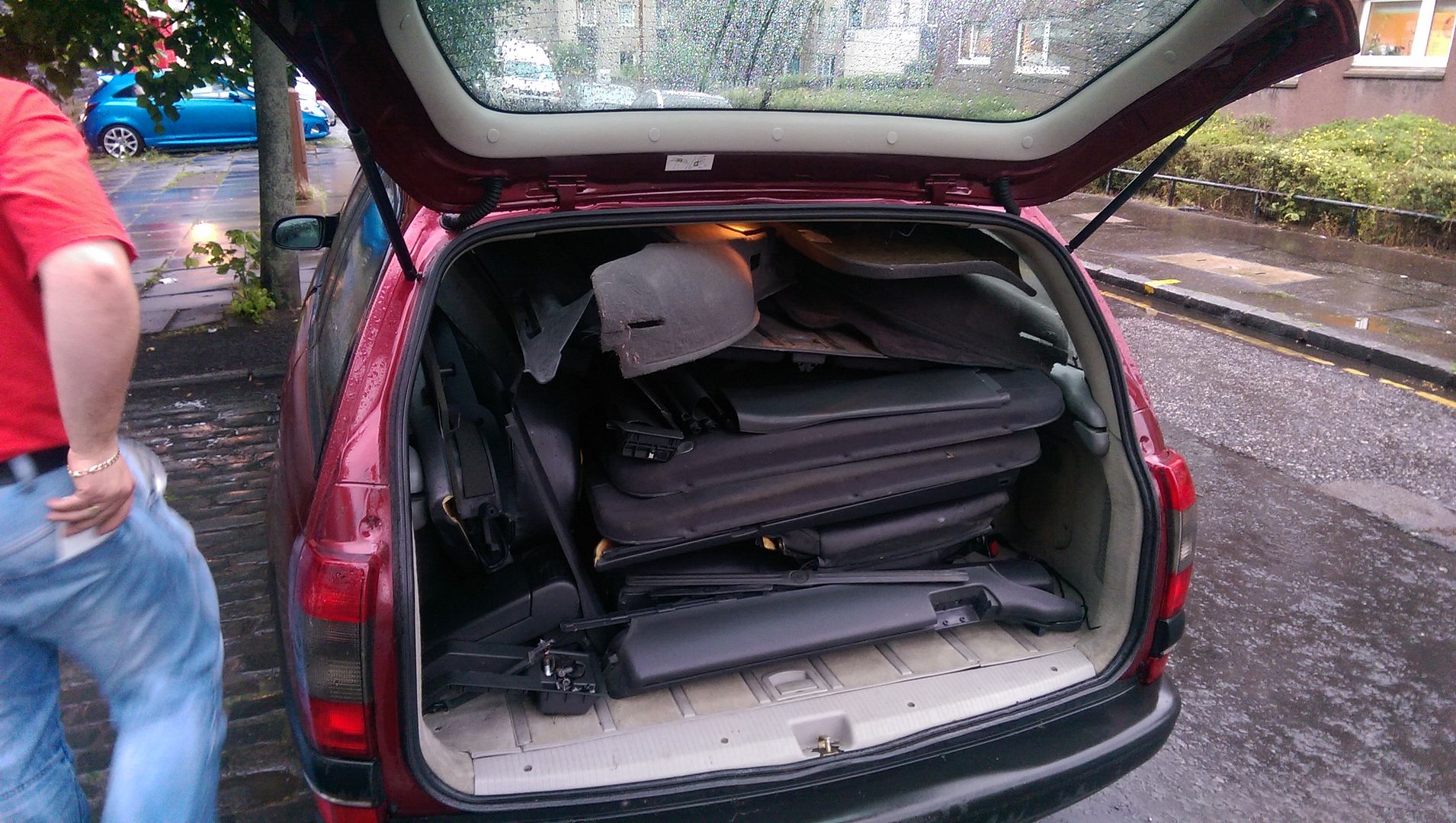 At this point it kinda sat for a week due to work and weather, but that hasn't stopped us from looking at parts, so we sent our little resident Admin(
@MollyGoogle
) on a lil journey to pick up a set of G and A cams from a breakers down the road from him, now the G and A cams should see us increase the power( assuming we have a healthy engine) from 170 to around 195 ish with a few other mods like a 3.0l inlet divider and a 3.0/3.2 long plenum. all of which we have sourced along with a 2nd set of G cams which should take us above the 200 BHP mark and that's before we look at exhausts and manifolds( 2.6/3.2 manifolds are better flowing than the 2.5's) :mrgreen:
So anyway, back to the Interior, we have gotten round to getting some of it fitted, have ran into a few issues, which we shall overcome eventually, first off took out the drivers seat and went to connect all the wiring only to discover the plugs are all different due to the new seat having side air bags and electronic pre tensioners( old seats had no airbags and a mechanical pre tensioner), now the airbags won't be an issue due to the car not being able to do anything with them, pre tensioners we may just have to live without them unless we can find out a way to transfer the mechanical ones to the facelift seats, rest we are confident we can do with a little rewiring as the rest of the wiring will be for the electric adjusters on the seats and the heater element, we just need some new plugs from either a facelift( and modify the cars loom) or vice versa.
So currently the drivers seat is just in situe for the time being, so we started on the boot and rear seats by stripping them all out
( yes the rear seats are already in, kinda never took any pics with just an empty rear + lil cameo from
@AND181
)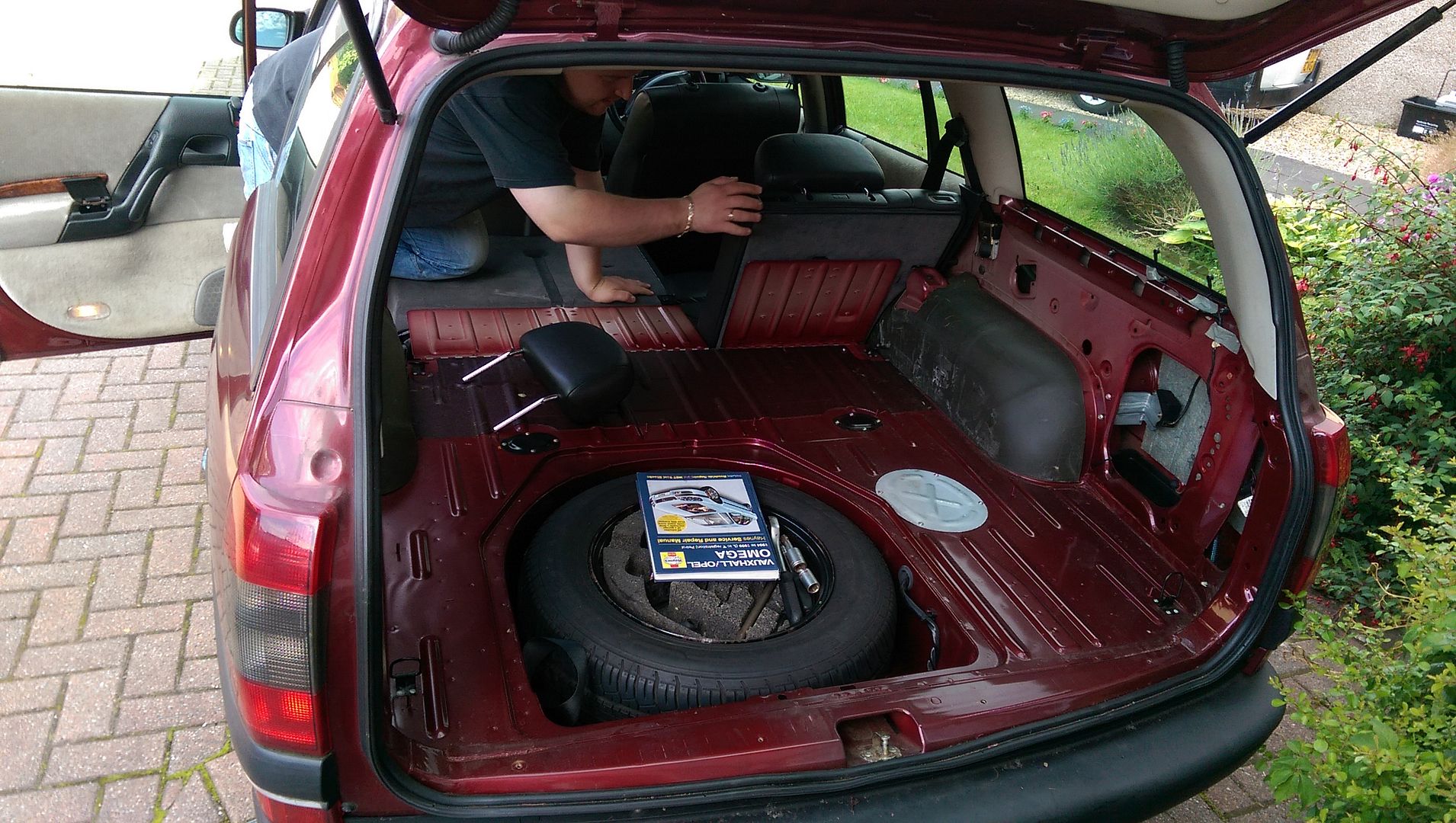 One thing that interested us is the seats from the MV6 have heater elements in them in both the base and back rests, so naturally we would have to get them working, and well, we kinda found a loom under the rear seats which we are assuming is for the heated rear seats from the pre-facelift, and again the facelift seats have a different seat connector, but alas we won't allow that to put us off, we already have a rear heated seat switch panel for the centre console, we just need to remove the old console to see if the factory loom is all there for it, if so we are good to go, if not I'd better start reading up on wiring diagrams :lol:
Now we slaved away, dealing with a broken back seat release, having to swap seat belts over due to the facelift having a retractable centre seat belt, but we got the rear finished and looks much much better than the dingy grey/ cream that was in there( you'll see the colour on the door cards that are still fitted)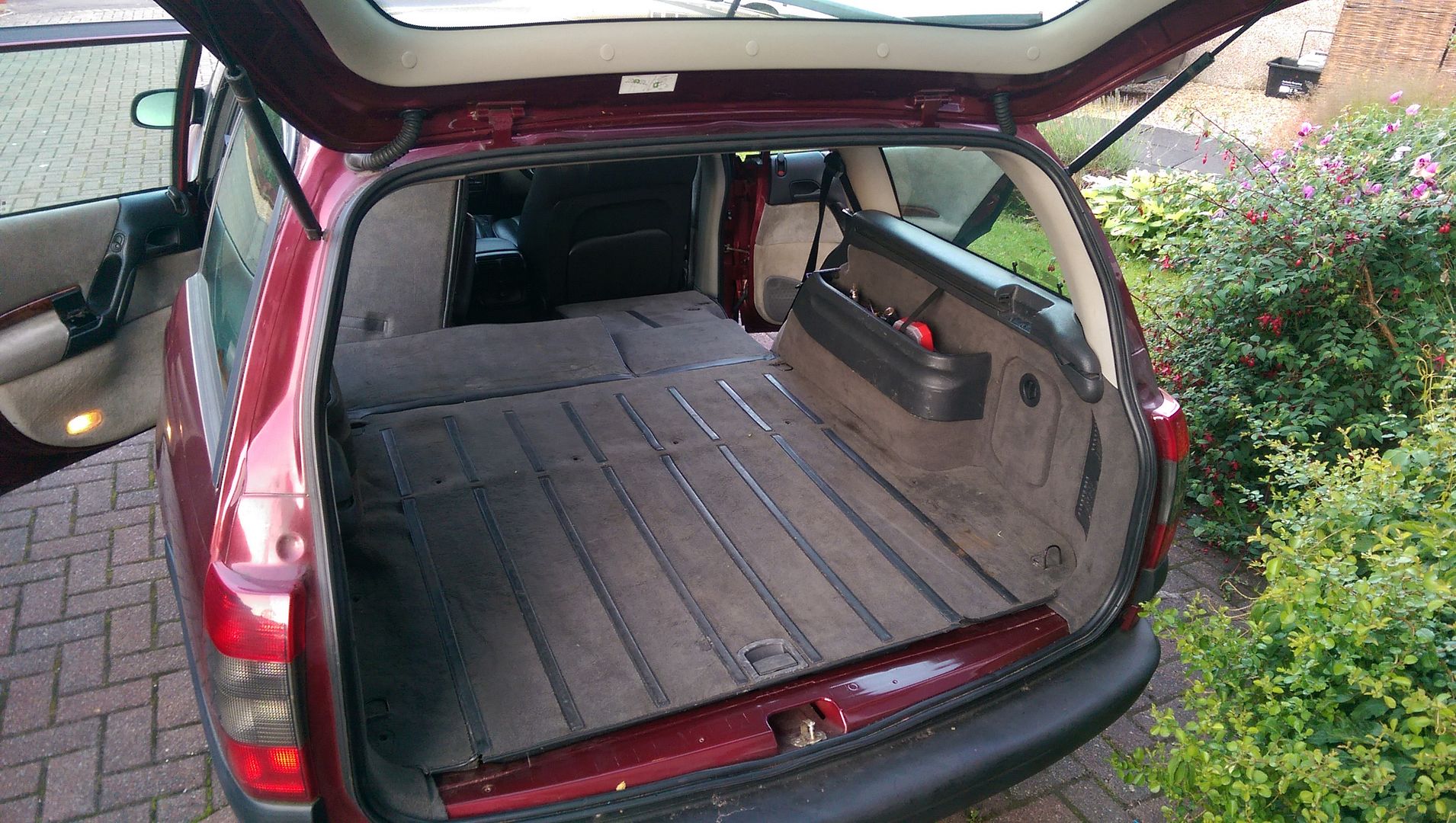 And thats pretty much it as it stands, we have changed some of the dash bulbs with limited sucess, due to the way LED's give out light we have found out we need to find certain LED's to fulfil what we need them for as single SMD LED's don't spread the light enough to light up the dash and you end up with hotspots and dead spots of light, have put some interior bulbs from the VXR behind the MFD and its looks awsome lit up white, but that was just a test, we will change that colour at somepoint plus the rest of the bulbs once we find out what the best bulbs are that fit
And thats the introduction done for our little project, now its save to say we have our work cut out with all we have to do to the car, but its been fun soo far, and it can only get better, not to mention for all the parts we have bought, we are still below the £500 budget :lol:, no doubt I will have missed parts, but Andy will fill in those gaps