Discussion Starter
•
#1
•
Progress thread
Well Iv not had it long but i picked the car up in Janurary 2012 and loved every minute of it. I love the car.
I wasnt sure about the colour first, but the dealer offered to get the car down from Leeds for me and then i could see it and decide what i thought. I took a gamble cause the price was right and in the sunshine, i love it. its a unique colour.
Here it is the day i picked it up. Looking very boring
Then some pics with the top down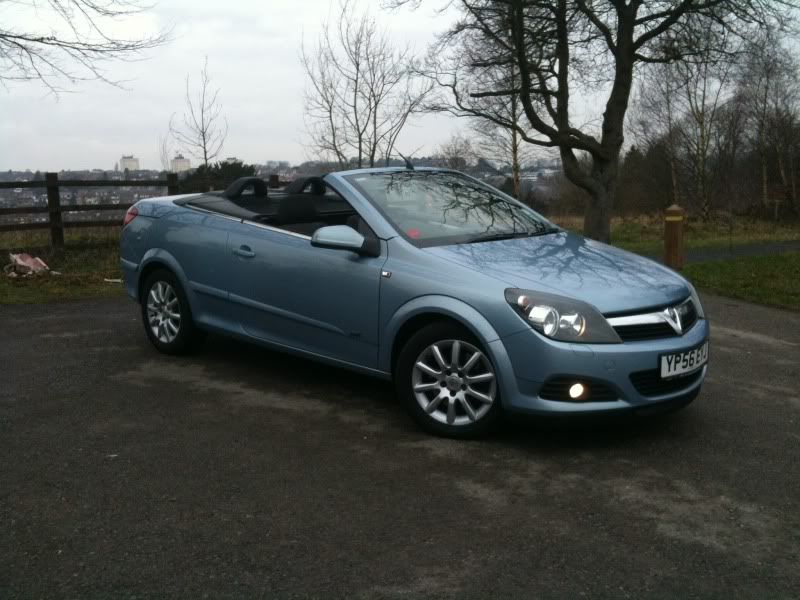 I got it in the garage pretty soon after, got the eonon unit i had in my old hatch fitted to it, although its the wrong colour i think it kinda suits it.
I also fitted the Opel Autohaus number plate surrounds i had on the hatch. nice touch.
Next up i went to the Janurary meet, i couldnt handle the crappy sidelights after everyone had LED ones.
So i got to work on my LED sidelight, with orange sidemarkers (bit like the american cars have fitted)
[
As soon as i got the car, i wasnt happy about the wheels, i really wanted some penta's and im still on the look for some at the right money. I went to pick up some 19" snowflakes but i got let down by the seller. Luckily a couple of days later 17" SRI rims come up at a bargain price, and i already had a set of 4 soare good tyres off the hatch which had 17" SRI wheels too. So i got the SRI wheels on, and what a difference it made, felt so much more comfortable driving it now.
For the next few weeks i just drove it with the top down in the sunshine. Gairo kindly cleaned my EGR valve and boost sensor for me. and then Disaster....
the alternator packed up, so i had it recovered back to the dealer by the funniest AA bloke called Paul. where they fitted a new one for me.
a week after this the rear spring snapped, so another trip to the dealer but tbh Evans Halshaw in Burton were brilliant about the repairs. no fuss, hire car, free fuel etc.
i cleaned her all up in time for feb's meet at Wednesbury
And then in the sunshine this week i cleaned and polished her again. Here is where we are at now.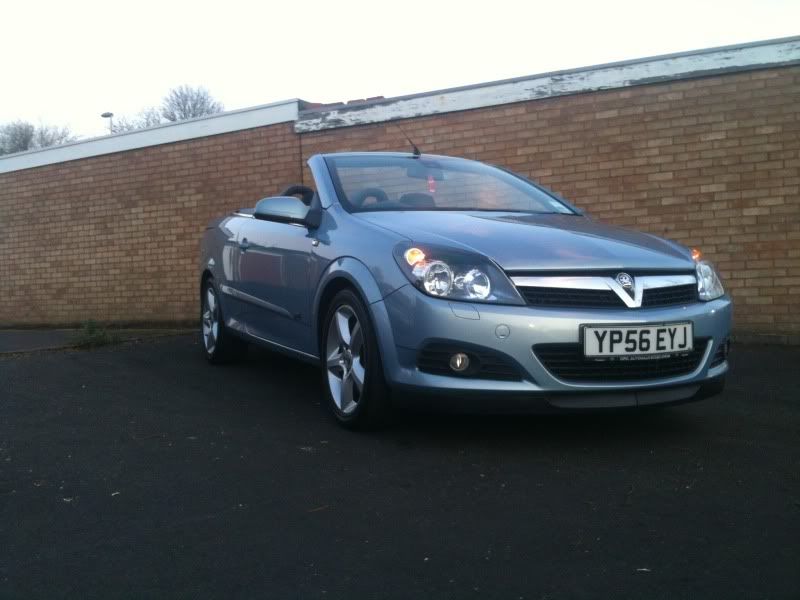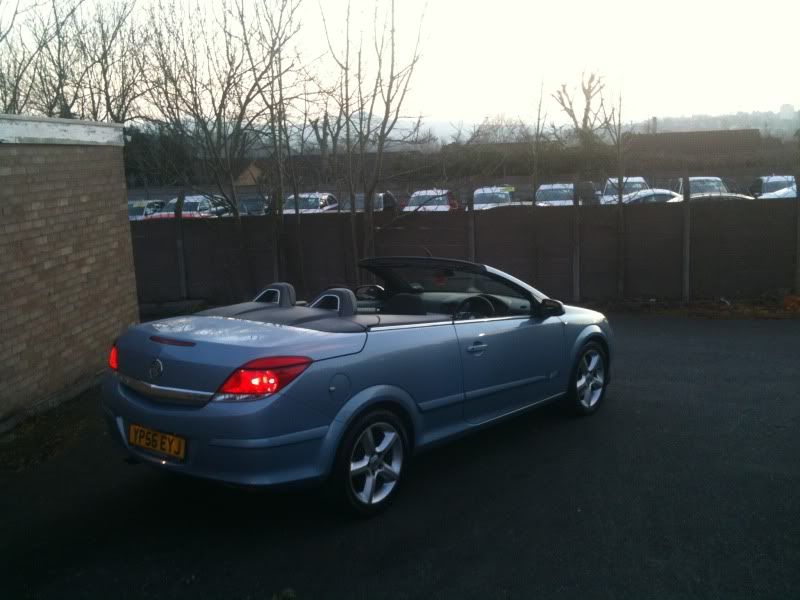 UPDATED
Okaly so its been a while since i have updated.
So after march i decided after selling my Bonnet guard to Gairo, i wanted another one, so i ordered myself a bonnet guard. i showed the car at PVS 2012
Shortly after this i fitted a 4300K HID kit, no photos but you all know what they look like right?
Next up, i had played with the idea for along time, but in the end i coudlnt wait any longer, i had the car lowered by Gairo, Smiffy myself and Mark. Grand job
Before:
After:
This looked much better and was amazed at the difference.
I had a bit of a quiet spell but next up Alex Wood detailed the car for me and Marshall did some carbon wrapping for me.
Detailed
Front Grill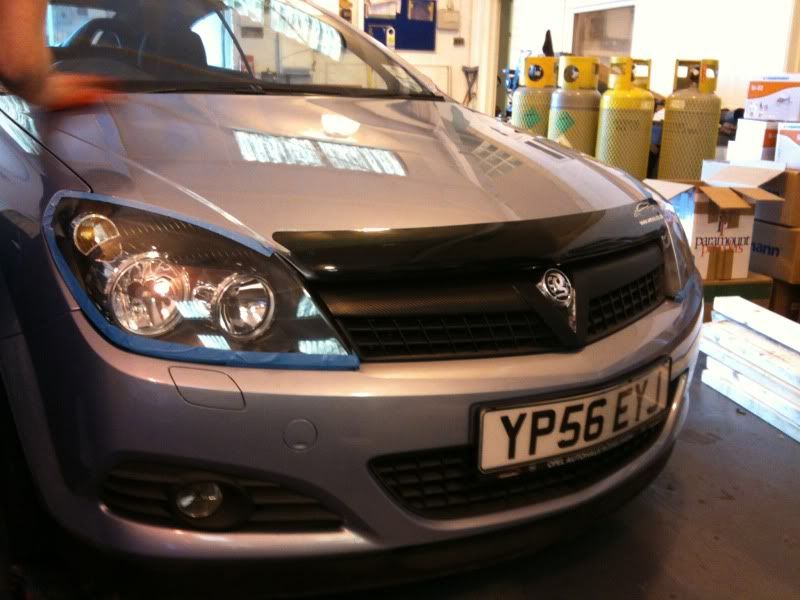 Debaged and Boot Strip
After this we had PVS where the car had some fair attention. i also aquired some stickers
Stickers
I was away for a while then while having holidays then starting my new job, but it didnt take long to get back in to the swing of things. i had a couple of problems with the roof but everything got sorted under warranty.
I refitted a 1.9 CDTI badge to the boot strip and then went ebay shopping.
I caught a bargain on 4 18" Twintop Wheels - The catch? i had to go 400 mile roundtrip to Kent to collect them... that weekend. So off me and Wood went to kent to pick them up.
I got them straight to the wheel refurbers the next day in silver Sparkle.
Week later, they were on the car (the picture above showss tyre grease while fitting)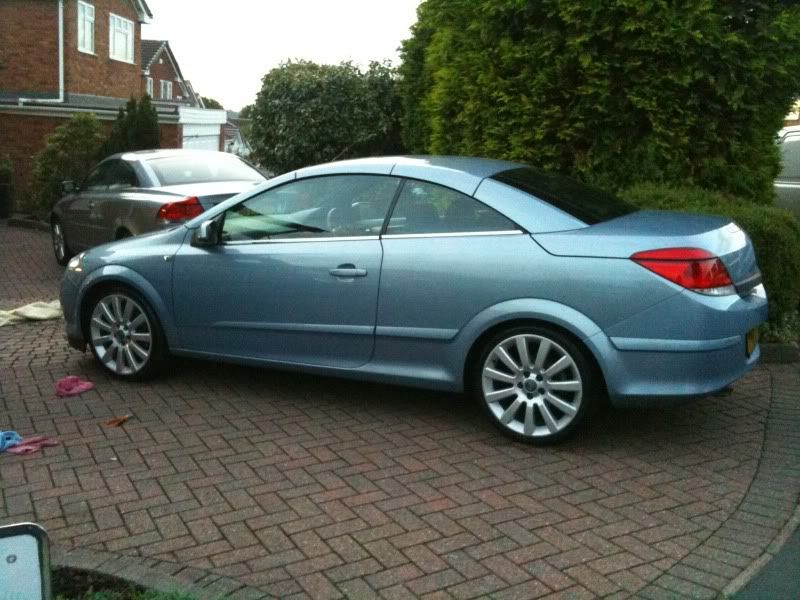 Wheels looked much better on the car, and they filled the arches nice. Best mod yet.
I decided to wrap in tint film the rear light strip it come out well and blended with the boot strip.
Before
After: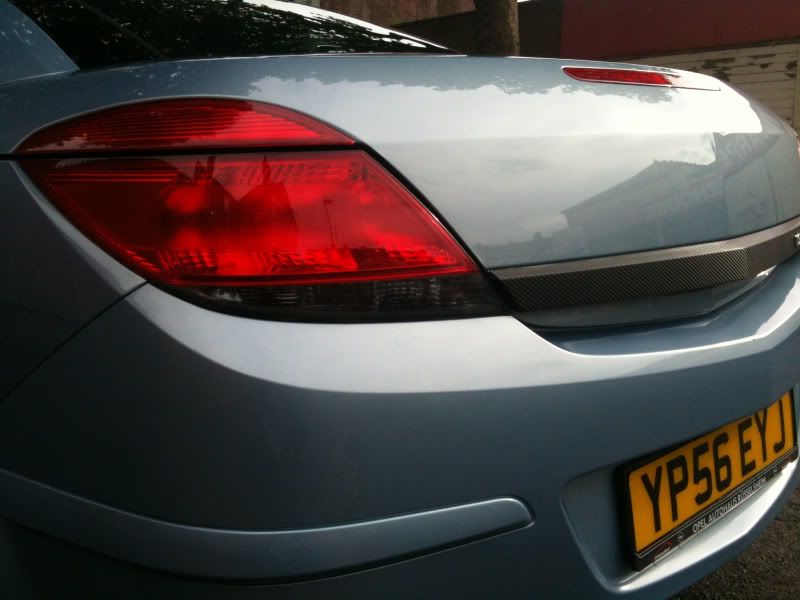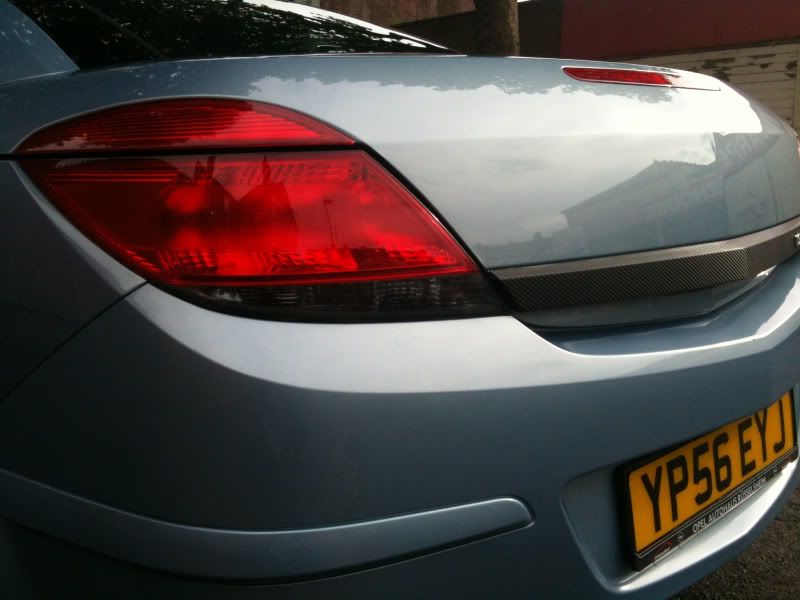 I retrofitted a Vauxhall Mervia MK2 armrest by making a custom bracket with the help of Mark and Benz.
Iv also had the facia trim from the Eonon unit sprayed by a bodyshop to match the dash but will be fitted on my return to the UK next week.
Since then i showed the car at Trax where it got alot of attenion it has come on along way
Plans next?
Well i ebay won a rear 1/2 leather rear seat set for 99p So Pecky is kindly going to pick this up, Hoepfully Chris will help fit and then i hope to get some leathers up front, maybe even VXR seats. Id also like a the VXLINE XP kit for the car, but they are rare to come by.
Any comments/suggestions would be great.