·
A.O.N Assistant Regional Organiser - Scotland East
Well suppose I better start a little thread for this considering I have had it for about a month.
Went for a look at a certain blue 3dr and had no plans on buying it, was rather happy with the 1.9 5dr and actually had a fair amount of plans for it this year, but it ticked every box, it is slightly older than the 5dr being an 55 plate, but it does mean it was one of the first batches VXR's which mean it has a lot of things that were dropped on later models as VX started the cost cutting, so has the black checked door trims and dash trims with the silver centre console, has full check control, door to door ambient lighting( the illuminated door handles), cruise control along side the usual VXR goodies like the 19" silver alloys, and the lovely half leather recaro's :yum:
It also has some nice optional extras like AFL's and Climate control both of which seems to be a rare option on the VXR, hard enough to find one with just AFL's let alone one that has AFL's and Climate, but that wasn't the main reason I bought it but it helped, for a 9 year old car it only had 35k miles on the clock, and apart from a few age marks and some tiny tiny scuffs to the rear bumper it was immaculate, and was in a better shape over all than the 5dr I had, so just had to have it, done a few sums, worked out my finances, phoned the insurance up and it all made perfect sense so within the week I was the owner of a mk5 VXR and lemme just set this here, the 1.9 was no slouch, with its 205 HP and 336 ft/lb but it is no match for the VXR, the VXR is in a different league and a hell of a lot more fun to drive.
So picked it up, unfortunately it was dark, so didn't get any decent first day pics( got some but was too dark to really show it off) and well the 2nd day of ownership was raining - the joys of the Scottish weather - but did get some pictures of the new whip at least.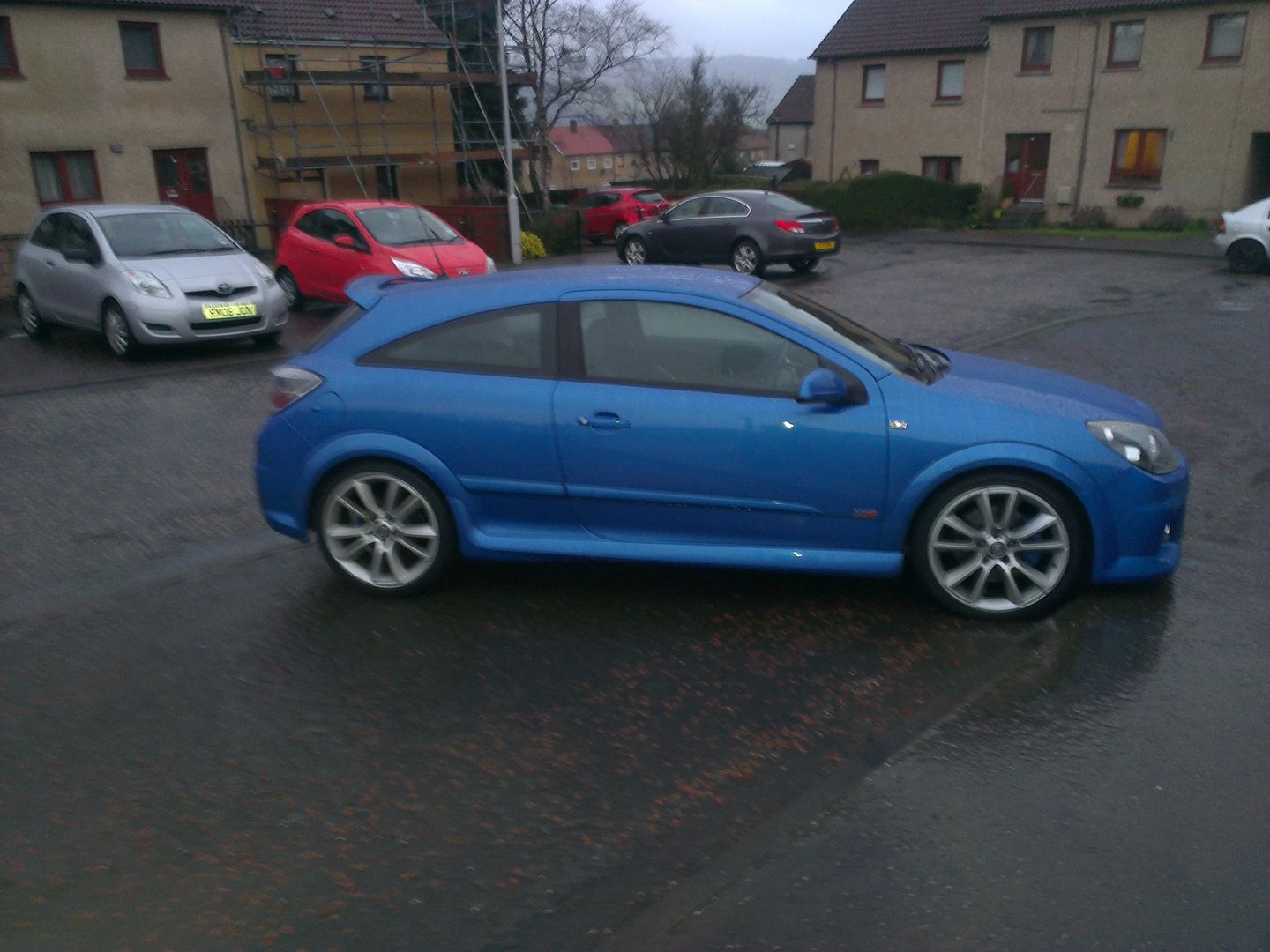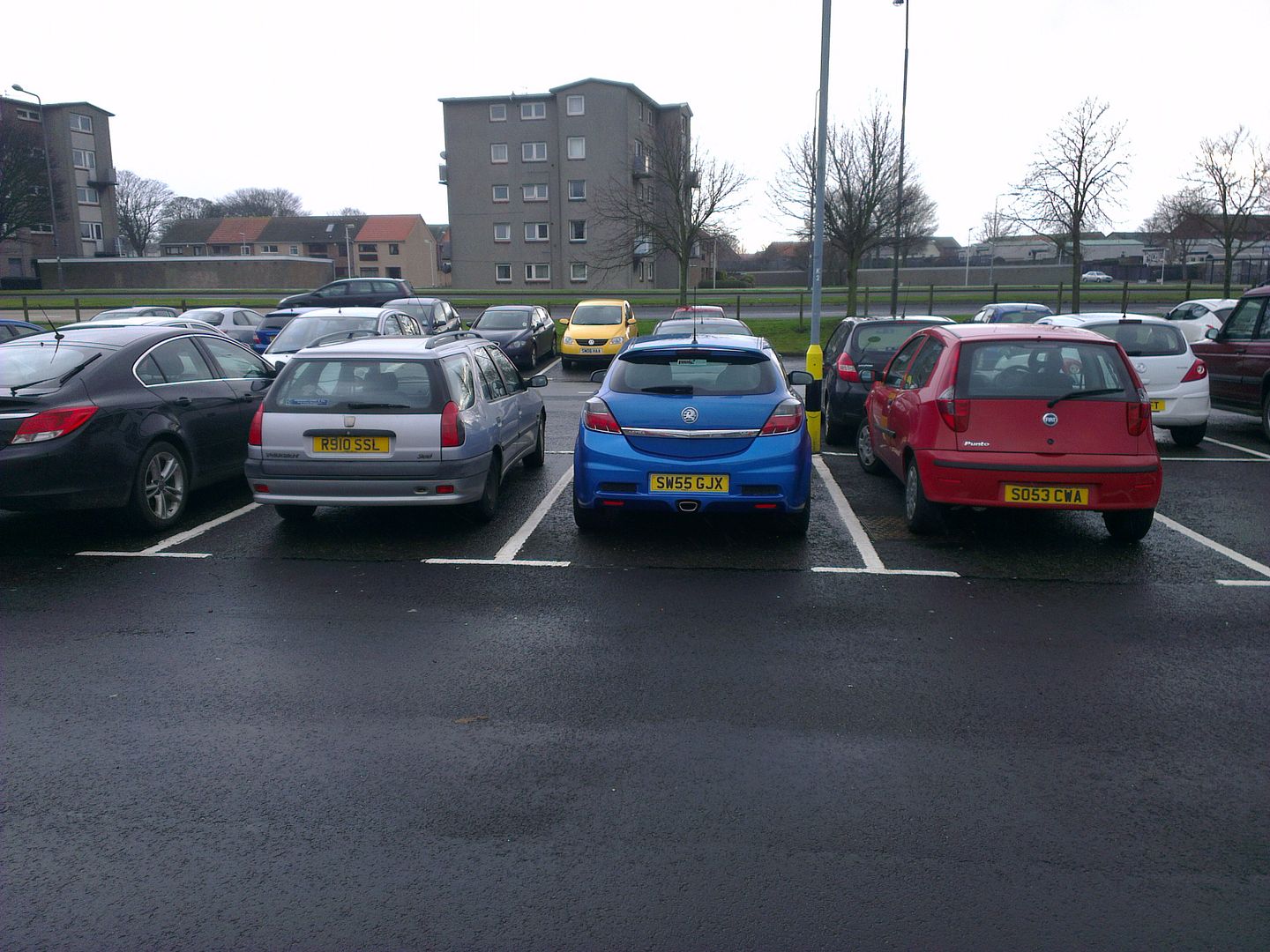 Now unfortunately it wasn't all rosy in the world of new VXR ownership, the window wipers were annoying to say the least, the jumped along the windscreen rather than wiped, so they were swiftly replaced with some decent wiper blades( Bosch AERO TWINS) and what a difference a decent wiper makes
, but that wasn't all, I had no washer jets rear or front, so within a week of owning it I already had bits coming off it to try and fix my washers, the AFL jets worked perfect just the actual window ones, so after struggling to get the washer pump out, and having a tank full of water, not a single drop of water came out of the hole left by the washer pump, so out came the little grommet/ filter and low and behold it was like I had stuck oil, had screen wash going everywhere, the little filter was blocked solid, so gave it a quick clean and rebuilt the washer bottle, and tested the windscreen washers and eureka I now had fully functional front washer jets, but my joy was short lived, went to test the rear and got nothing, not even a drip :'(
So next day, had the rear boot trim and the rear high level light off, took the pipe off and check for washer fluid coming out with the help of my old man, and Jesus, the gunk that was spat out the back was unreal, was like the previous owner just used tap water and algae had started to grow and was blocking the pipe, checked the nozzle and gave it a good clean and connected it all back up, and had another eureka moment when I had a functioning rear jet
arty:.
Everything was going well for the next 2 weeks, had even bought some new parts for the car, but more on them later
, but the car had developed a slight grinding noise from the passenger side wheel when braking, didn't think much of it as it coincided with resurfacing work that was getting carried on on the main dual carriageway I use to commute to and from work, so thought nothing of it, but over the course of the week the grinding steadily got worse, and was working 7 days at that point covering holidays at work, so never had time to strip the brakes down, but eventually it go unbearable so after work got the car stripped down and the caliper off to remove the stone that was stuck between the disk and pad, what I was greeted with wasn't a stone stuck between the pad, but rather there was no pad left, it was down to the metal :shock:
Ignore the mess on the desk
So had to get my sister to run me into the only place that would be open at 4 on a Saturday since vx parts close at 12, so off to Halfords we went, gave the monkey at the other side of the counter my reg, he confirmed it being a VXR and went away and got me pads, so off away home I went 35 quid lighter, and went to fit them, now at this point I didn't really know the difference between VXR pads and the std Astra pads, but it soon became apparent, the little clip that goes into the caliper is a different shape on the VXR, and well I had just gone and bought std Astra pads, they fit in the runners fine and work "fine" they just tended to rattle when the car went into reverse as I had to cut 2 of the little metal fins off for it to fit - now I know it sounds dangerous, but I knew what I was doing and I made the best of a bad situation as had no other option - so fitted it all back together and tested it, rumble was gone and the brakes worked, so would do for now, till I got proper pads.
So another week past no calamities and started using the higher octane fuel in the car as was running just generic super market fuel( 95 ron) so checked what I had locally and well had a shell in the middle of the town, pain in the **** to get to with no guarantee that it sold V-power or a Tesco extra 5 minutes off my normal commute home near a quiet residential area, so opted for the Tesco and been running momentum ever since with no issues, and actually seem to be getting more miles to the tank that I did with the 95 ron fuel, so that's a bonus I suppose.
Anyway, back on with the progress thread, now certain members, I won't name names but you know who you are, have been at me since I got the car to get it lowered and back on the Bilsteins, and I kept coming back with it won't be on until September as I would have to renew the insurance as when I changed the insurance over I went from a modified policy to a non modified policy as really didn't have any plans to modify the car, so out of curiosity gave flux a phone, was on hold for what seemed an eternity, and was preparing to be raped, then the wife came back and said, well there will be no change to the premium, and well that just set wheels in motion.
So the plan was we( Me, Scott and Aiden) were going to fit some daps to Andy's burg at his and thought that while we were all there we would get the Bilsteins fitted to the VXR at the same time, unfortunately the burg took longer than expected, so plans were made for Andy and Scott to pick up the car from my work and while I was working they would fit the springs, Did however acquire some new LED number plate bulbs off of Adien from his 5dr
So all was set, Andy came and picked up the VXR, headed off to fit the springs, simples, but as per everything on this car, it was never as simple as that, They dropped the car back off with me at the back of 4, and had some good news and more bad news, Good news was that they had the rear Shocks and springs changed over, the bad news is the thread on the front drop link was that badly corroded that they weren't able to take it right off and it threaded putting it back on, so they got the nut on enough to keep the drop link in place, but did mean my anti-roll bar was knocking to get access to the cabin when ever I hit a bump, so plans were made again to go back and get the suspension fitted 100% on Tuesday. Oh also had a nice couple of lights on the dash, those light being the TC and ABS lights, which as you can guess the car had no electronic stability systems.
And to top it all off, when I got into the car after work I had this pop up on the dash
Least I know the check control works.
So ordered new drop links from Euro Car Parts for delivery on the Tuesday, so was going to be cutting it fine, if they never came or I missed the post I was ******, but luckily they came first thing in the morning along with the new padgid pads. So we headed back through an Scotty's mate( also has an arden VXR - but I digress) set at the drop links with the oxyacetylene torch, wasn't the most pleasant of experiences if I do say so myself :Scared:, but they got the old drop links off with ease, and while they had the car on the ramp and in the air, I thought it would be a good idea to be on the opposite side doing the front brakes and getting the proper pads fitted, so replaced the bodged halfords pads first and then attacked the drivers side which still had the pads that came with the car fitted, and was literally shocked when I removed the pad, will let the pictures do the talking here :-
Yes that is the pads that were on the drivers side, 1mm of pad left and most of what was there fell to bits when it was removed from the car, but its all replaced now, and I think Andy can confirm the brakes work well along with the ABS after checking them out driving home
, and best of all no more TC or ABS lights on the dash
arty:, also while the wheels were off, we had a go at fitting the sidelights so that they matched the AFL's a lot better, not going with LED's for now, as the sidelights on the AFL's are a ball ache to change even with the wheels off, so went with some blue 501 bulbs I got free from LMF at PVS last year when I bought the pipercross from them. they do look a little blue but they match the AFL's a hell of a lot better than the std yellow.
And well all that trouble was worth it, its like night and day driving on the B8's and sportlines compared to the VXR springs and shocks, car feels tight and planted, just wish I could push it more, but alas all isn't perfect yet, I hit a pot hole few weeks back and well my nearly new kumho's on the front have a creme egg shaped lump in it and as we discovered on Tuesday the other has a nail in the tread :'(, but due to the joys of being on AON and the ever so helpful nature of its members Andy has set me up with 2 nearly new tyres, they may not be one of the big brands but they will do for the time being and has gotten me out of a rather deep hole, So many thanks to him
So now the car is lowered an looks something like this :-
But alas I am not finished yet - Maybe I should have started this sooner - when the car was originally getting its springs fitted, I had new spark plugs to be fitted so they offered to fit them at the same time, and they discovered I had a slight oil leak, I knew I had a leak coming from somewhere but couldn't locate it and it was just a slight one and thought it was just coming off the front breather pipe, but no, it was coming from the oil cap, so off to ebay I went and pick me up one of these :-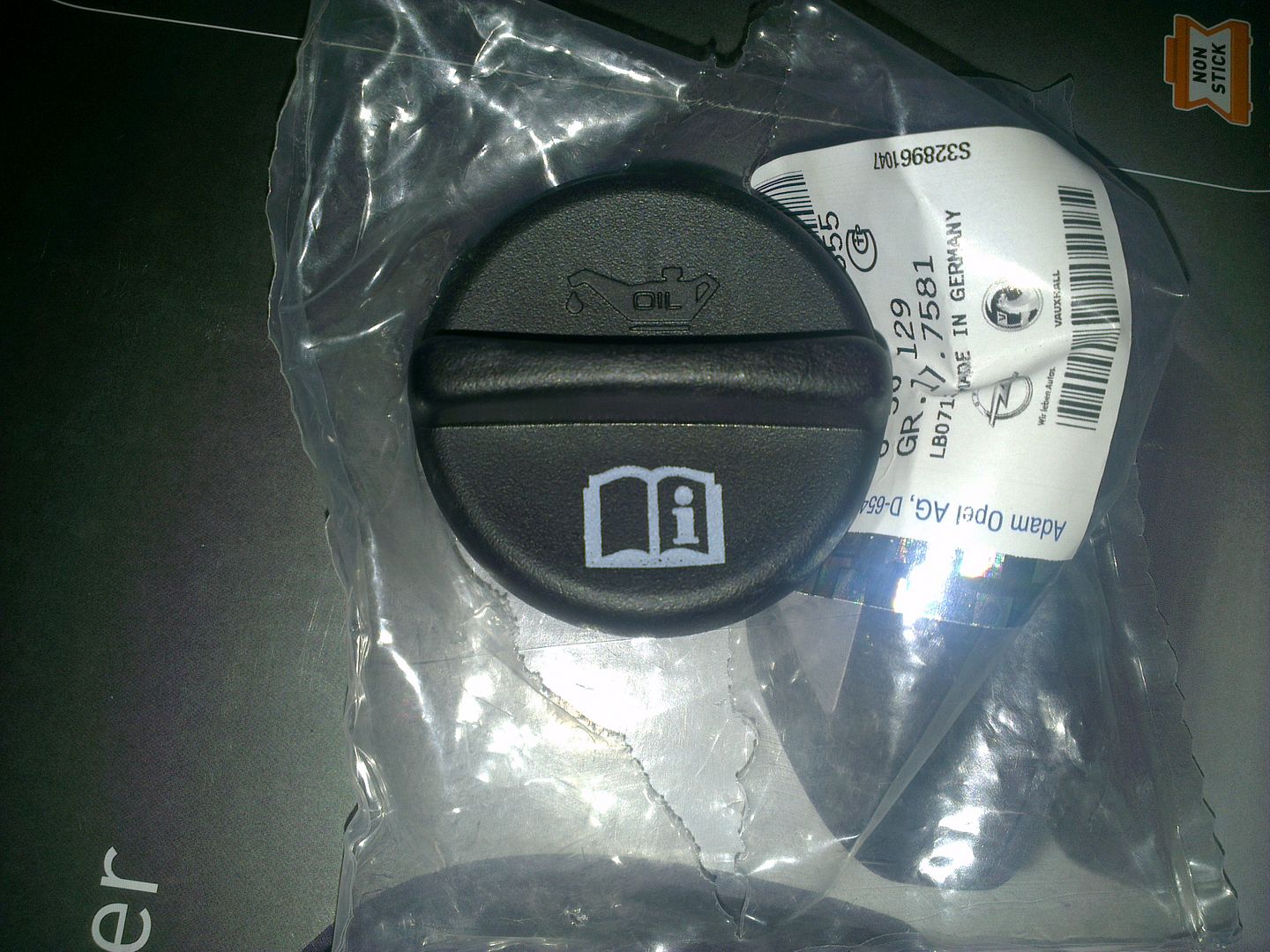 And got it fitted earlier today, and also took the chance to pack the top mounts with grease to inhibit rust from building up in future.
Now my engine bay is a lot cleaner that it originally was courtesy of scott as he gave the bay a once over and cleaned up the plastics, all parts of his service
Now as my car was an early model, apart from not having keyless, it also doesn't come with piano black interior as std, but alas Andy has that covered, and for a simple trade of the CRD-t against a complete piano black interior I can now get rid of the silver dash trims
Before :-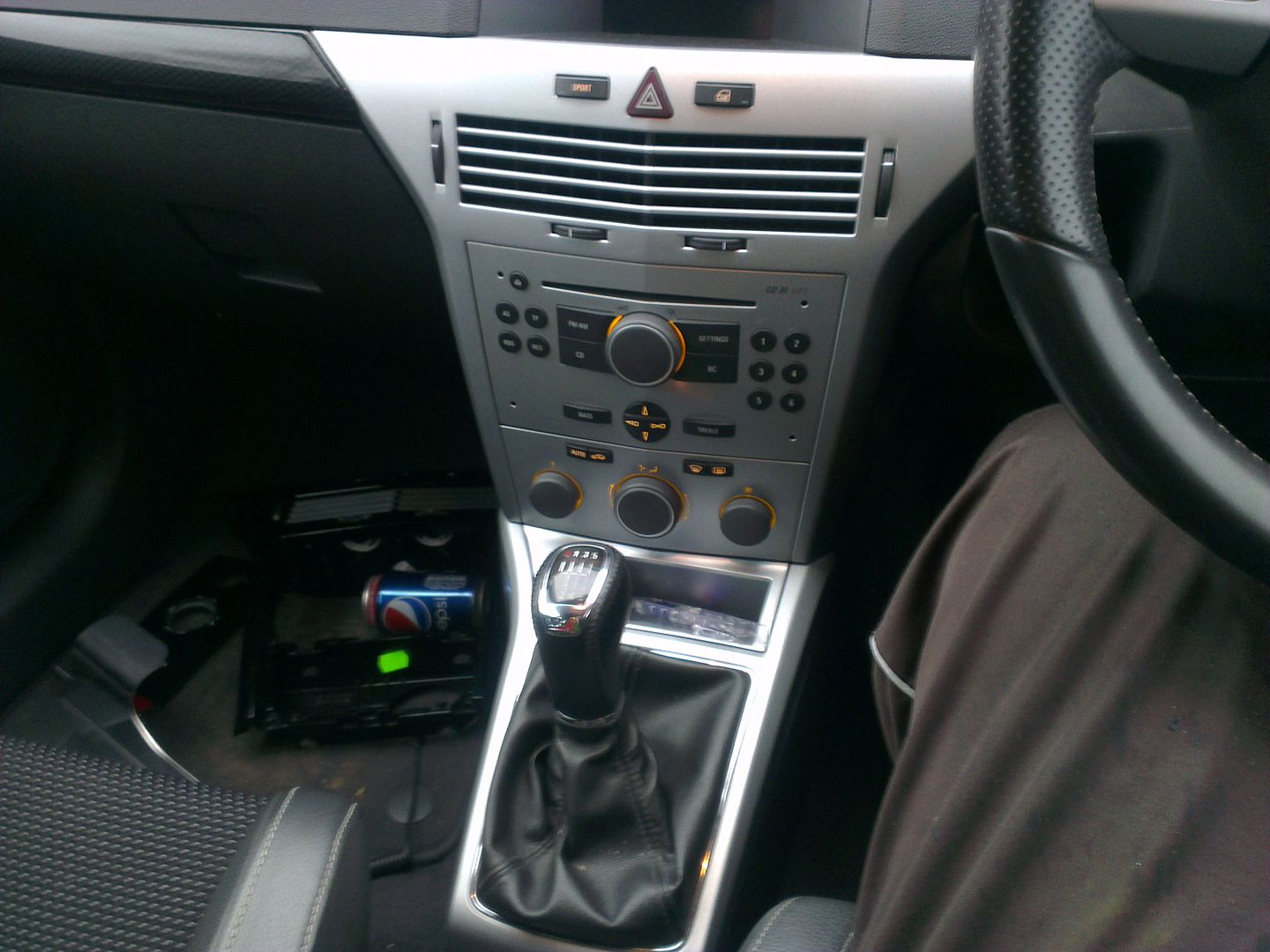 After :-
And that's about it, atm, I know only half the dash is black, I do have a climate control fascia to go on, but can;t get the bloody old one off to get the new one on, seems to be getting stuck on the outer knobs, and have a newer CD30 MP3 to be coded along with a piano black coin tray, then all that will be left is to source some piano black steering controls and that will be that complete.
All that is left to go on the car is the whiteline RARB which is currently being refurbished and getting painted yellow
and its coming along rather nicely.
Oh yeah, also have some shiny piece of metal to go in the engine bay :hyper:
Well that's it, was a bit longer than expected, and didn't think much had happened in the 4 short weeks I have owned it, but can;t wait to do more to the car during the summer, got the timing belt to get done along with an oil and filter change.